Hello, my friends, and Welcome to our final week of Playing with Serenade by Flowerdisco and Friends! You know, I've really enjoyed working on this project, and especially enjoyed working with this fabulous group of ladies!
For the finale week, I was assigned with image 47, which is a bird perch? A bird cage stand? Okay, let's just say I wasn't quite sure what I was going to do with this one! After quite a bit of brainstorming, this is what I came up with:
Patterned Paper: Echo Park
Cardstock: Papertrey Ink for pumpkin, Georgia Pacific and Waussau from 'Pumpkin Perch' lol.
Sentiment is stamped with Orange Zest ink from Papertrey ink, then heat embossed using clear embossing powder by Ranger.
The sticker boarder strip and stars are also from the Echo Park collection.
I think that covers it! It's a pretty simple card, I'm not totally in love with it, but I can live with it!
Now, let's see what the rest of the gals did!
Agnes~
http://flowerdiscosscraphut.blogspot.com/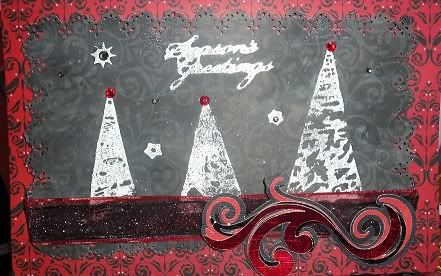 If you haven't already, I hope you'll visit their blogs, and let everyone know how wonderful they did with this series! I also hope you enjoyed seeing all the cards we made using the Serenade cartridge!
I'll be back soon with some other cards I've been working on! Thanks for stopping by and for all your support and comments!
{{{HUGS}}}
Jess