Here we are two days until Christmas! I still have some last minute shopping I am really waiting until the last minute to run out and do tomorrow. It is the second day of my Christmas break, and I'd planned on playing with all my December release Papertrey goodies the whole time, but unfortunately I have been a little down, and it's killing my mojo at the moment...When I got home from work Wednesday night, my little Miniature Pinscher, Mickey, who I have had for all the 13 years of his life passed. He was old, no denying that. But he still had some spunk and was such a little fighter, and even though he'd been a little slower and wasn't eating much for the last few days, I thought it was just a momentary thing, and he'd come back to his normal crazy self like he always did! I was standing next to him and watched him take his last breath! Just like that, he peacefully went! I wish I had taken more pictures of him recently, but I did take this one of him last week when I had just bought him a pink Snuggie. He did love his Snuggie!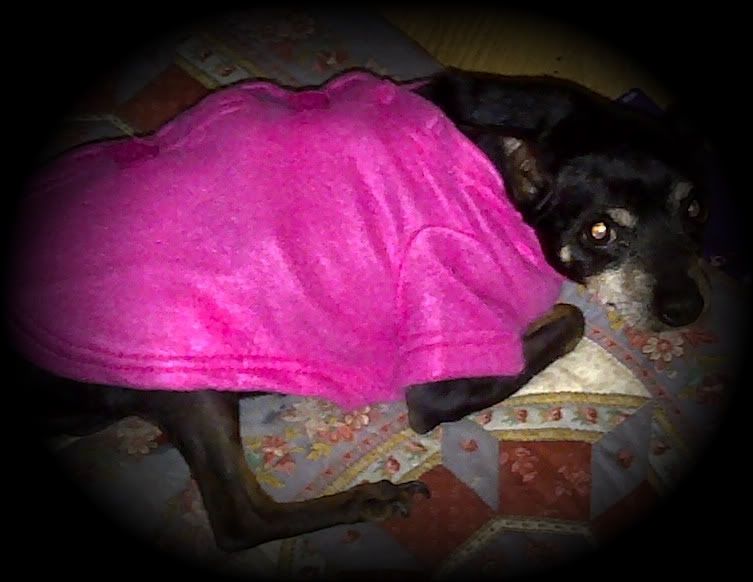 So, I am hoping my mojo will come back sooner rather than later and I don't waste my whole Christmas break moping around the house! I am sorry to be such a downer today, so I will change up the tune by sharing some cards!
Today is my sisters birthday, and this is the card I sent her:
Supplies: (all Papertrey Ink unless otherwise noted)
Paper: Rustic Cream, patterned is Authentique Splendid
Stamps: Modern Wood Mats, Think Big favorites (selectively inked)
Dies: Block Alphabet, Medium Scallop border
Ribbon: Summer Sunrise
Misc: Gems
And this is the Christmas card I sent my sister and her husband:
I just love those cute little animals and the footprints! I will be back tomorrow with a few more cards. Thank you so much for stopping by and listening to me talk about my little Mickey! More upbeat next time, promise!
Enjoy the eve of Christmas Eve!
(HUGS)