Hello! I'm stopping in to share a couple photos of my recent storage solutions. I mentioned on the forum that I had labeled and organized my new inks over the weekend, and had a couple request to see photos of how I am storing them. I had been wanting to share my die storage as well, so when I got home last night, I snapped a couple quick pictures, and thought I'd share them. There is nothing groundbreaking about how I am storing things, but it's always interesting to see what works for people, and maybe someone will get an idea from seeing something here!
So, here is my new ink holder that I shared the other day:
I bought this to primarily hold the new inks being released from Papertrey Ink. I will add more as they are released, and take out the old ones. Of course I realized as soon as I got this organizer in the mail last week, that I should've ordered two! Or a bigger one for inks, and a bigger one for ribbon! I ordered this from
www.organizemore.com
. I highly recommend them! It did take a little over a month to get it, which while I was waiting seemed like forever! But, it was well worth the wait, as each unit is hand crafted to order, and they are made REALLY well!
So, this is how I am labeling my inks:
Labeled and Alphabetical Order. :) I bought those little labels from Walmart. I believe they are Avery. I stamped them with the little circle in Tiny Tags and wrote the name. The label do hang off a little, but not too bad, and I don't think it should be too annoying. I also open them from the tip on the other end. The labels are also removable, so if I decide to label them differently in the future, it shouldn't be too hard to remove. They are not too removable, like post-it's or anything, so I don't forsee them just falling off, either. I decided to store my inks upside down.
Next, I thought I'd share how I store my dies.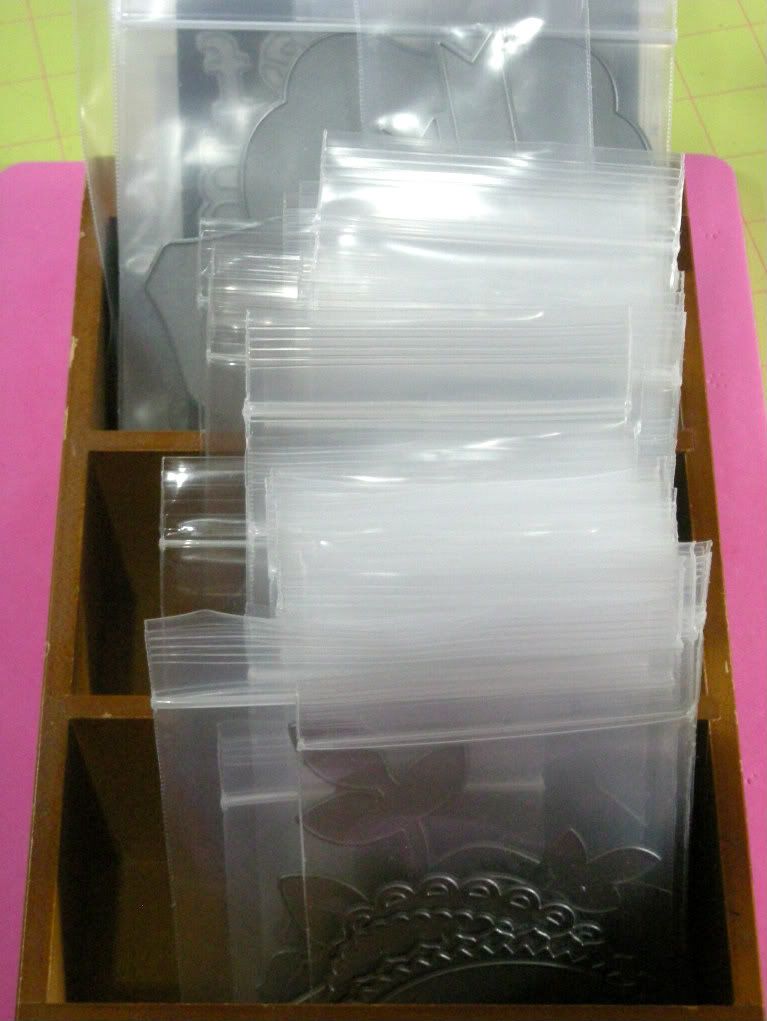 I found this little box, possibly card catalog at work. Our office bought an old, deserted college, and this was in the library. So, I have this sitting next to my desk, so I can reach it while I'm crafting. As you see, it has the 3 sections, so in the front I keep the Mat Stacks, Fillable Frames, Limitless Layers, and the like. In the middle I keep dies that coordinate with stamp sets like Garden Variety, TANL, Harvest Berries, Flower Fusions, etc., And in the back I keep the largest dies like Mega Mat Stacks, Edger dies, Alphabet dies, Banner dies, etc., It is a system, where I know where things are, and it isn't that hard to flip though, or pull a section at a time out and look through it. Again, this might not be for everyone, but it's working for me, right now. I always thought I was a little anal and OCD about organization, until I started looking online at other crafter's workspace's! ;) I have printed out the names of all the dies with the picture from the website, and plan on labeling their little baggies, but I haven't had the time for that, yet.
Oh, and I also have all of my border dies above my desk:
Some of them are on the magnetic strip, some are in the red thing, which is also magnetic, but is also like a little pocket strip. That looks a little messy. I need more of the little magnets. ;)
And finally, I will show you how I organize my stamps:
So, this is on the corner of my desk. And this is working for now, but may need to change, especially now that Papertrey has changed their packaging. But, I have those little crates stacked up, I got them from Dollar General. My stamps are stored Alphabetically. All my $5 sets are stored in the white box to the left. There is no rhyme or reason to how they get thrown in there. ;)
Oh, yeah! My ribbon. You saw some of my Papertrey ribbon in the first photo, in the ink organizer. But, of course I have more ribbon than that! So, until I buy more orgainzers, so I can have a uniform display, they are stacked in a hodgepodge of units, also on my desk:
The top two are Papertrey ribbon, and I've run out of containers, so the rest is being stacked on top! I forgot to take a picture of my buttons, but they are on a shelf in little jars, sorted by color. And, I think that's it! If you have any questions at all, please don't hesitate to ask! I appreciate you taking the time to look around and see how I store my *precious* goodies! And yes, in my head I said *precious* like Gollum in Lord of the Rings! ;)