Hello and Happy Saturday! I hope you are enjoying the day and staying warm! It has gotten quite cool here, and should be darn right cold tonight! It's the wind that's making feel way colder! Still no snow this year, though! :(
So, the challenge today is hearts. With all the Valentine's cards I've made this year, I still need one for my husband, so initial thought when I saw this challenge was, 'great!'. humph! However many hours later, I have 1 very clean and simple card so far! Mojo is not cooperating today, so far! I am hoping to come up with more this afternoon- evening, but we shall see. I think part of the problem is that I just got this in the mail: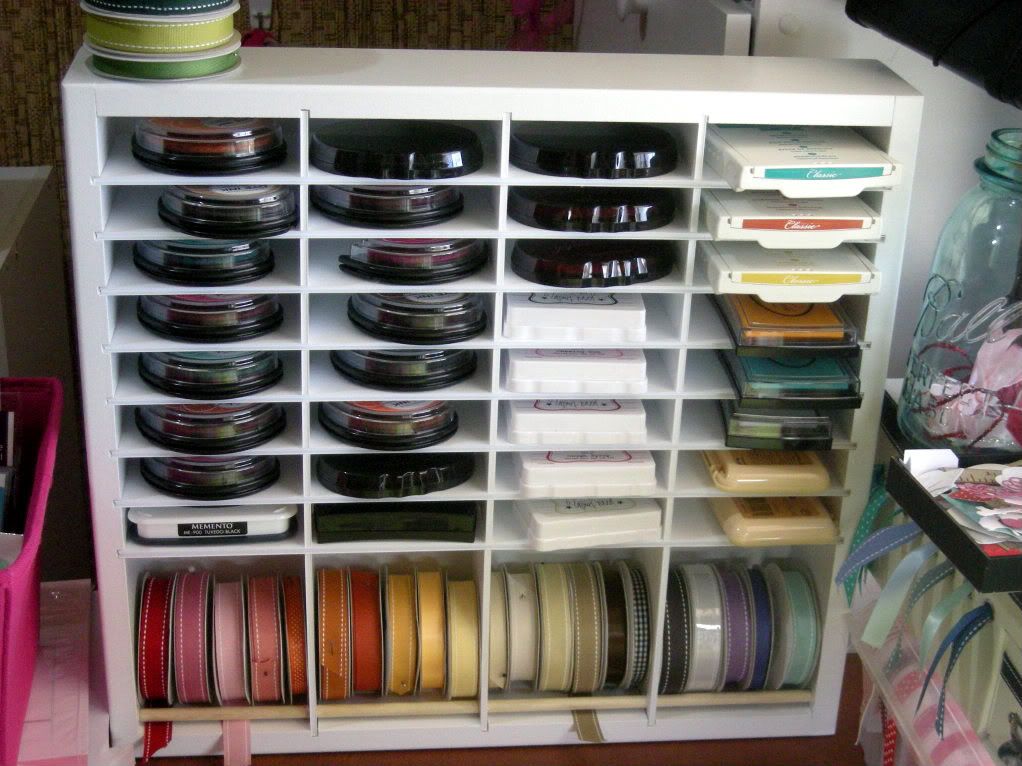 So, of course I am now wanting to organize, label, etc., It is holding my new Papertrey Inks and some of my ribbon. My first thoughts are, I wish I would've gotten two. Or one for ink, one for ribbon. My husband is going to help me hang it on the wall when he gets home from work. I bought it from
Organize More
the beginning of January. So, it does take a few weeks, but they are all made to order, and boy are they well made! Very nice! I love it! And really want another one ASAP!
So, here is the card I made:
I embossed the heart border. And the pink heart is PTI's Shimmer pink die cut with the large heart die, then cut the medium heart out, then replaced with a Sweet Blush medium pink heart, stamped in Pure Poppy with the Silhouette from Love & Marriage, and clear rhinestone heart. Hopefully better things to come later today, if not tomorrow! Thanks so much for stopping by!
Supplies: (All PTI, unless otherwise noted)
Paper: Rustic Cream, Kraft, Sweet Blush, Shimmer Pink
Stamps: Love & Marriage
Dies: Hearts, Heart Border
Other: Heart rhinestones