Before Mother's Day? Crazy, I know! You see, last weekend I was sitting at my craft desk playing with Background Basics: Medallions. I just can't get enough of that stamp set, and I love playing with different color combos with it! So, I just sat there stamping different color combo mats on Saturday night. When I went back in on Sunday, I picked one of my stamped backgrounds I really liked, Dark Chocolate and Canyon Clay, and made a card with it. It seemed like it would make a good masculine card, which I seem to be on a masculine kick lately, and this is what I came up with: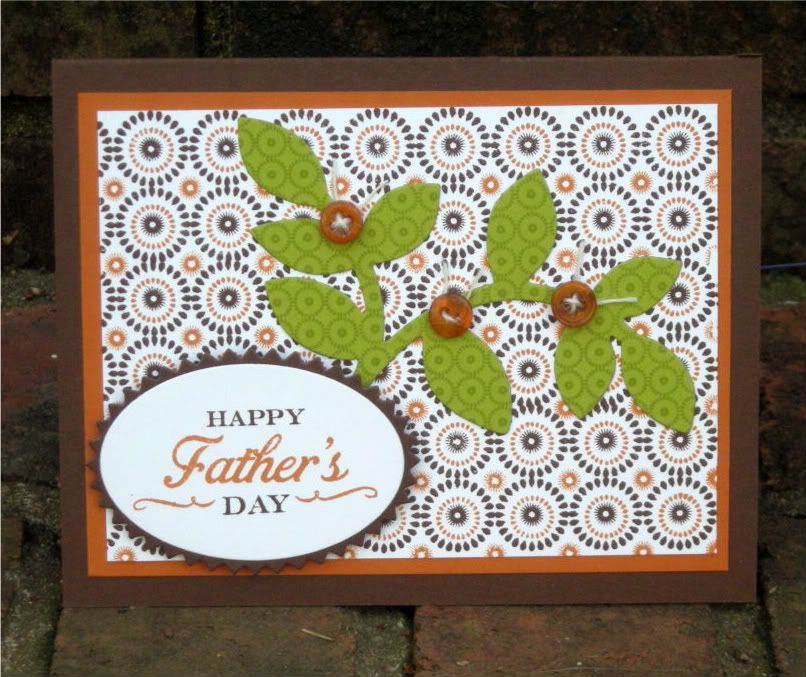 I also stamped the smaller of the Medallions with Simply Chartreuse ink on SC paper, and die cut with Turning A New Leaf. The sentiment is Happy Day onto Limitless Layers Ovals.
I hope to get a lot of stamping in this weekend! I have a card sitting on my desk for this week's Make It Monday that just needs a little finishing up, so hopefully I'll be back to post that tomorrow!
Have a GREAT weekend!!!
Supplies: (All Papertrey Ink, unless otherwise noted)
Paper: Dark Chocolate, Canyon Clay, Simply Chartreuse, Stamper's Select White
Stamps: BB:Medallions, Happy Day
Dies: Limitless Layers Ovals, TANL
Other: Canyon Clay buttons, Rustic Cream button twine